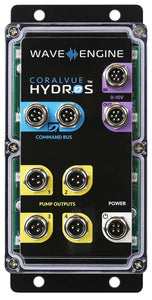 For years we have been restricted to the abilities of simple controllers of highly popular pumps like the Maxspect Gyre, Reef Octopus OctoPulse, EcoTech Vortechs, and Tunze Turbelles, until now. The Hydros WaveEngine is a single module that will control a variety of pumps, via app, simultaneously.  Each pump`s features are available, so there is no need for multiple controllers, as the WaveEngine will be able to handle them all. 
The Hydros WaveEngine app will directly replace mounted controllers and other control modules, saving room in your cabinet space. It will also clean up the mess of all the bulky power supplies and cords with its four pump driver outputs, which runs off a single power supply!
How does it work?
Direct Pump Driver - The Hydros connects directly to the pump head, so there is no need for the pumps` power supplies or controllers
0-10V Control - Many pumps offer 0-10V controllability.  The Hydrow WaveEngine supplies four independent 0-10V outputs to control these pumps
One App to Rule Them All!
The Hydros App from CoralVue replaces manual controllers and other app controls.  The Hydros app can tap into the native control platform to access the preset flow patterns and modes, so you can configure them any way you desire.  Connect wirelessly to the Hydros Wave Engine, and get your flow set.
Features:
Easily add pumps and their exact location in the aquarium, while controlling their flow
Use different brand pumps to work together in different flow modes - sync, anti-sync, triangle wave, square wave, sine wave, and any other flow pattern presets
Create multiple groups, and modes like: Feed, Water Change, or Night
Monitor the power consumption of individual pumps or the total of all attached pumps
Monitor pump RPM, to see how they are performing
EcoTech Pump compatible
 Full cloud connectivity so you can control your pumps from anywhere in the world 
Real-time notifications of system status & pump performance
Define custom flow patterns of any duration up to 24 hours with 1/1000 second accuracy
Broad Compatibility
Make pumps from different manufacturers work together to provide a single, integrated flow management system. You can  now use a VorTech™ MP40WQD at one end of your tank and a Reef Octopus Octo Pulse 4 at the other end of the tank and have them work together simultaneously, opposite each other or completely different. Best of all, it isn't limited to two pumps!  Add a Maxspect Gyre into the pattern if you want too.
Do you have a controllable return pump or skimmer? 
Bring them to the party because the HYDROS WaveEngine will control them too! 
Clutter Reduction
The clutter of power bricks, cables and controllers is becoming an increasing problem for reef keepers. The four pump driver outputs on the HYDROS WaveEngine replace the pump controller, power supplies and any necessary external wireless control modules. Best of all, the HYDROS WaveEngine can run four pumps off a single power supply! 
Needless to say, it is easy to install. Simply toss out your existing power supplies and controllers, connect the HYDROS WaveEngine and you're ready to start moving water.  
0-10V INPUT Control
Control any pump via variable speed INPUT. Unlike other controllers that require intricate programming on pumps connected via 0-10V, the HYDROS WaveEngine allows 0-10V INPUT connected Pumps to take full advantage of all native flow modes and presets without complicated coding. 
Reverse Pump Drive
Some pumps can provide additional pattern options by running in reverse. For example, the Reef Octopus Octo Pulse 4 changes from a highly directed flow to a gentle broad push if you run it in reverse. The HYDROS WaveEngine allows you to take advantage of Reverse Drive to further increase the available flow patterns. 
Cross Engine Synchronization
Multiple HYDROS WaveEngines can be used to control even larger number of pumps and the patterns will remain perfectly synchronized. A pump connected to HYDROS WaveEngine "A" will run in perfect synchronization with a pump connected to HYDROS WaveEngine "B".
Remote Access
A FREE and easy to use iOS and Android compatible app allows you to control everything including flow modes, schedules, pump configuration, as well as monitor performance. You will have no problem with connection because the app can run in cloud mode or local mode.
Cloud mode allows you to communicate with your HYDROS WaveEngine when an internet connection is available. The HYDROS WaveEngine system is part of the Amazon  Web Services (AWS) and Internet of Things (IoT) platform, guaranteeing high security and reliability. 
Local control gives you the option of direct access to your control settings in the event your internet connection is unavailable. No matter your situation, the HYDROS WaveEngine will work to keep your tank alive! 
Battery Backup
An optional battery backup system (sold seperately) is available so that the HYDROS WaveEngine will move into more energyefficient patterns (defined by you) to allow circulation to continue through the power failure automatically. 
Real-Time Monitoring and Notifications
You can set up text message alerts and/or emails to be notified if a pump is blocked or disconnected. If total power failure takes place at your home, bringing down your entire tank and internet connection, you will still be notified via email or text. 
Do your pumps ever get dirty and drop in performance?
The HYDROS WaveEngine will monitor the power being consumed by each pump along with its shaft RPM and will notify you if the pump's performance is suffering and may require maintenance. 
Third Party Integration
The HYDROS WaveEngine is compatible with 3rd party controllers such as the Neptune Systems APEX, the Reef Angel, GHL Profilux and others via the 0-10V control port. 
Control Pump Speeds
Trigger Flow Mode Changes
Splash Proof Enclosure
The HYDROS WaveEngine is sealed in a watertight case with industrial splash proof connectors for safe and long-lasting operation. Why would it not be if intended for aquarium use?
Hydros Compatible Pumps

Make and Model

Direct Connect


Connect directly to the pump
removing the clutter of the
power brick and the controller
Get Pump Adapters

0-10V Pump Input


The Hydros WaveEngine supplies
four independent 0-10V outputs
to control these pumps
Get 0-10V Quad Cable

Wireless RF Controlled


EcoTech Marine Vortech pumps
can be controlled using their
wireless "slave" mode
Get More Details
Maxspect Gyre
XF130 / XF230
-
-
Maxspect Gyre
XF150 / XF250
-
-
Maxspect Gyre
XF330

 

/

 

XF350
-
-
Maxspect Gyre
XF280
-
-
IceCap
Gyre 1K & 3K
-
-
IceCap
Gyre 2K & 4K
-
Reef Octopus
VarioS-2

 

&

 

VarioS-4
-
Reef Octopus
VarioS-6

 

&

 

VarioS-8
-
-
Reef Octopus
Octo Pulse 2

 

&

 

Pulse 4
-
Abyzz
A100, A200, A400, A1200
-
-
Abyzz
AFC 400
-
-
Aqua Illumination
Nero 5
-
-
-
CoralBox
QP-9+ & 16+
-
-
Current USA
eFlux
-
-
-
EcoTech Marine
Vortech

 

MP10WQD,

 

MP40WQD,

 

MP60WQD
-
-
Jebao
WP, RP, PP, FS and SW Series
-
-
Skimz
-
-
-
Tunze Turbelle
Nanostreams
-
-
Waveline
DC 6000 & 10000II
-
-
---
Manufacturer Info
CoralVue Aquarium Supplies
CoralVue, founded in 2002, provides high-quality aquarium lighting at prices any hobbyist can afford. The company was formed by David D'Aquin, an underwater video and lighting expert who has teamed with commercial divers, the U.S. Navy and National Geographic on a variety of projects. D'Aquin took his knowledge of lighting and electronics and focused these passions on creating products for the aquarium industry. In just a short time, CoralVue pioneered the development of the 400-watt double-ended metal halide bulb and the unique color temperature spectrum of ReefLux metal halide bulbs. CoralVue also develops high-quality electronic metal halide ballasts to power their bulbs. They offer ballasts in single, dual, triple and dimmable lamp models. To compliment their line of lighting products, CoralVue entered the protein skimmer and calcium reactor market in 2004.