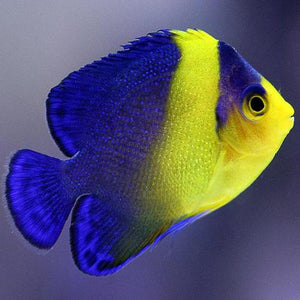 Care Level - Expert
Temperament- Semi-aggressive
Reef Safe - with Caution
Max Size - 5"
Min. Tank Size - 50 gallon
The Purple Masked Angelfish also known as Venustus Angel or Blue-backed Angelfish will make a beautiful addition for your aquarium. Its striking contrast of Blue and Yellow will add a diverse coloration that will please any aquarist.
Purple Masked Angelfish requires a 50 gallon or larger aquarium with large amounts of live rock for hiding as they can be a shy fish. However, as the Purple Masked Angelfish matures and grows, they may become a bit more assertive to fish with similar size and body shape. Although typically known as reef safe Purple Masked Angelfish may nip at sessile invertebrates and clam mantles.
The diet of the Purple Masked Angelfish should include Spirulina, marine algae, mysis or frozen shrimp, and other meaty items.
Approximate Purchase Size: Small: 1" to 2"; Medium: 2" to 3"